Hey all! Sorry for being kinda silent recently... let's start with an awesome picture!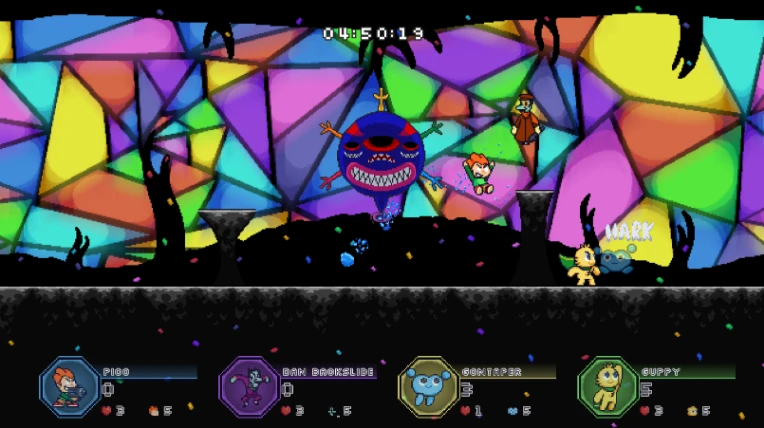 So as some of you might have guessed, the 0.0.56 update for ME-OS got delayed pretty hard. It's a mix of a lot of factors including computer dying late June, health issues, and some other stuff in between. But hey, a lot of stuff still happened! I thought I might start with showing off a pretty big Jump Wars change coming to the update, and that's that the HUD (that was introduced early March) got a pretty major upgrade thanks to my cofounder of ME-OS/wife/friend/creature @spicycoffee !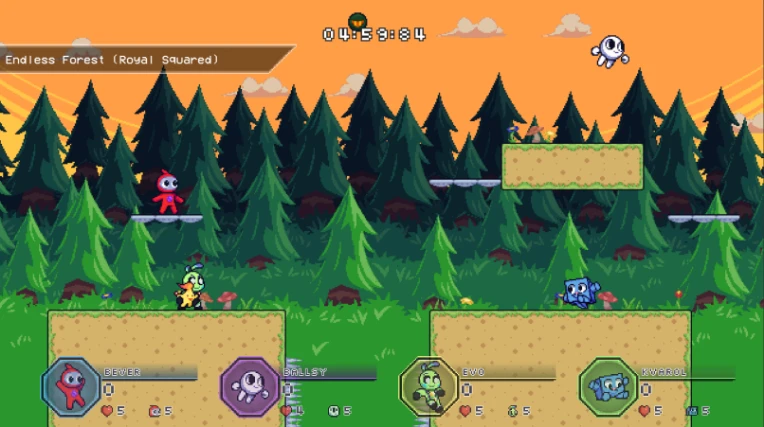 As you can see, now there is a name display as well as a score display. Why score? Well, depends on what mode you are playing, it can mean a lot. And yes, that means that modes are also coming to the update as well! In stock mode, you wont see the scores. It just depends on the last one standing. In time mode, the score represents how much players you hit/KO'd. Then there is also king of the hill, coins, frag limit, but more on that later! I'm just very happy on how it looks. I also added a song name slider in the beginning of each match that appears from the top left corner (as can be seen with the second screenshot). There are also a TON of new impact changes to make the game feel more fun, as well as a whole bunch of sound effects and interactions! This includes hurt sound effects, KO sound effects, victory, etc...
There's a lot more Jump Wars specific stuff that will be shown in the next update! However, there's something I can tease at least for now...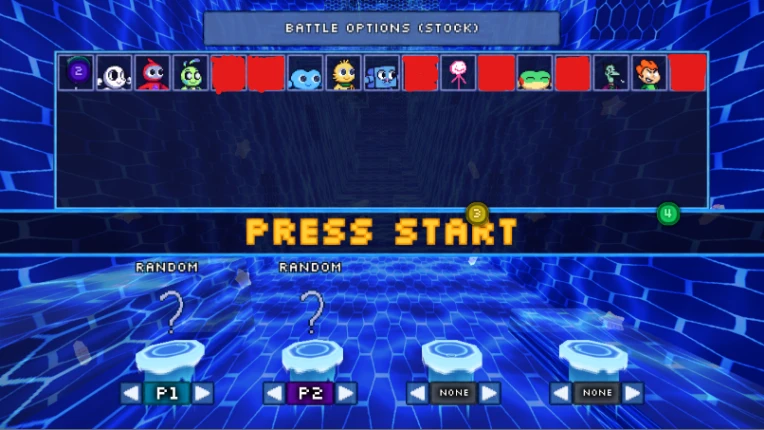 There are SIX new characters coming to Jump Wars! Some are mine, some are @spicycoffee's, and two are from friends. Their gameplay is honestly really fun, and the overall gameplay of Jump Wars just feels more and more diverse with each addition. Balancing has been a pain, but hey, it's gonna be so worth it to have more and more characters pour in eventually! There's also a stage currently in the works, and some other stuff, but currently other games like Keyccordion Dawn are getting the spotlight.
Speaking of the other games, this update specifically will touch a lot upon not only Jump Wars, but Keyccordion Dawn. There have been some delays with certain things, but you will all get at least THREE new songs added to this update! One was already teased, the other two so far aren't even by me, and instead a beloved Newgrounds composer. Depends on timing I might be able to squeeze in some more, but we'll see... You're also going to get THREE brand new smaller games as part of a flash like parody collection, but more on that later!!!
IN OTHER GENERAL NEWS... I was at the Newgrounds Toronto 2023 meetup this year! Cam hosted again (thankyouthankyou), and I got to meet so many amazing people as well as have people from last year show up again. I'd write much more about it but honestly Emily summed it up pretty well and you can read her little blog thing about it here lolol
Anyways, if you wanna keep up with the game's progress, best way to do it is to join our Discord! I try to post frequent updates there, and answer all questions.
Thanks for reading up to here!!